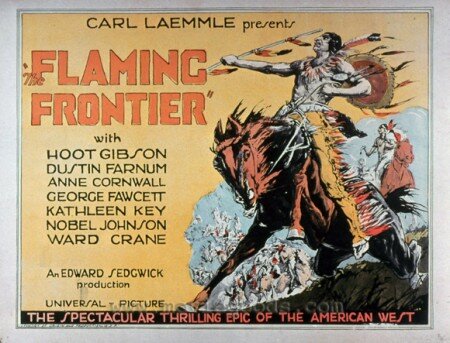 The important thing about The Flaming Frontier, besides the fact that it was shot in Eastern Oregon, is that Dustin Farnum, the co-star, is the person Dustin Hoffman was named after.
For those of you who keep track of these things, Billie Holliday was named after Billie Dove. And Michael Keaton, whose real name is Michael Douglas, named himself after Diane Keaton.
Strange but true!
Anyway, neither Billie Holiday nor Billie Dove nor Diane Keaton nor Michael Keaton appeared in The Flaming Frontier. Here is Turner Classic Movies' synopsis of this silent Western, which I have never seen.
Through the influence of Senator Stanwood, Bob Langdon, a Pony Express rider, is admitted to West Point. Bob falls in love with the senator's daughter, Betty, and, to protect the senator's son from a scandal involving a woman, Bob assumes the blame himself. Thrown out of the military academy, Bob returns to the command of General Custer. Custer is attacked at the Little Big Horn, and Bob rides for help. Bob later brings Belden, a crooked Indian agent, before the bar of justice and, his reputation cleared, returns to West Point.
I hereby claim The Flaming Frontier as an Oregon film, based on location shooting in Eastern Oregon — which apparently stood in for Little Bighorn, Montana.